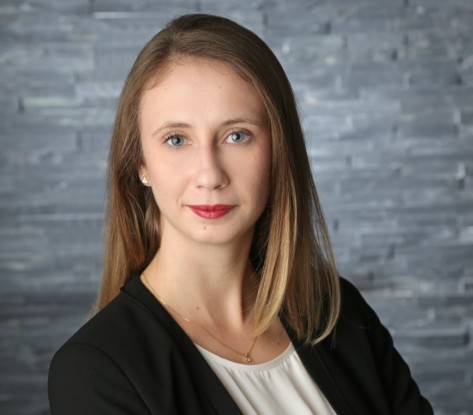 Commercial Freight Transport; Overhead Line Road Freight Transport
Contact
linke@verkehr.tu-...
work +49 6151 16-22508

Work L1|01 166
Otto-Berndt-Straße 2
64287 Darmstadt
Regina Linke has been working at the Institute of Transport Planning and Traffic Engineering since January 2019. Her teaching focus is on the courses Modelling of Transport Demand and Intelligent Transport Systems. As part of the ELISA II-B research project, Regina Linke is working in depth on the functioning and effects on people and nature of overhead line-bound heavy traffic.
Research Areas
M.Sc. Regina is particularly available for the preparation of theses in the fields of

Logistical issues within the framework of the ELISA project
Freight transport, and
Intelligent transport systems
as a contact person.
ELISA II-B: Elektrifizierter, innovativer Schwerverkehr auf Autobahnen
R. Linke (2023)
Greenhouse gas emissions saving potential of the eHighway system. Presentation at: 6th ICPLT – Interdisciplinary Conference on Production, Logistics and Traffic, 21. – 22. März 2023, Dortmund, Germany
R. Linke (2023)
Driver´s acceptance of overhead line hybrid trucks. Presentation at: 6th ICPLT – Interdisciplinary Conference on Production, Logistics and Traffic, 21. – 22. März 2023, Dortmund, Germany
R. Linke (2023)
Integration von OH-LKW bei Transporteuren
Presentation at: ELISA Konferenz, 14. März 2023, Darmstadt, Germany
R. Linke (2022)
Approach for Description of Trajectories of Overhead Line Trucks using Infrastructure Data of an Electric Road System
Presentation at: 50th European Transport Conference, 07.-09. September 2022, Milan, Italy
R. Linke (2022)
Hessian eHighway test track ELISA – Findings of the accompanying research
Presentation at: Meeting of the European Clean Trucking Alliance, 6th April 2022, online
R. Linke (2022)
Hessian field trial ELISA – Findings of the accompanying research
Presentation at: Electric Road System – Virtual Meeting – Learning from trials in Germany, 02nd February 2022, online
F. Schöpp, R. Linke (as second presenter) (2022)
Electrification of Road Freight Transport – Energy Flow Analysis of Overhead Line Hybrid Trucks
Poster Presentation at: 101st Transportation Research Board Annual Meeting, 12th January 2022, Washington, D.C., USA.
R. Linke (2021)
Applications, Benefits and Acceptance of Overhead Line Hybrid Trucks by Transport Companies
Presentation at: International Doctoral Seminar. 27-29. September 2021, online.
R. Linke (2021)
Integration of new drive concepts by transport companies – experiences with the eHighway System
Presentation at: 49th European Transport Conference, 13.-15. September 2021, online.
R. Linke (2021)
Factors influencing the integration process of the eHighway system by transport companies
Presentation at: 5th Interdisciplinary Conference on Production, Logistics and Traffic (ICPLT), 17th March 2021, online. (Due to Corona Pandemic 5th ICPLT was an online conference).


(opens in new tab)

Download
R. Linke (2020)
Applications, Benefits and Acceptance of Catenary Hybrid Trucks by Transport Companies
Presentation at: International Doctoral Seminar. 13.-15. Oktober 2020, online.
R. Linke (2020)
Insights into the Operation of Overhead Line Hybrid Trucks on the ELISA Test Track
Presentation at: 4th Electric Road Systems Webinar 2020, 12th May 2020. (Due to Corona Pandemic ERS conference in 2020 had to be cancelled and was replaced through a webinar.)


(opens in new tab)

Download
R. Linke (2019)
Applications, Benefits and Acceptance of Catenary Hybrid Trucks by Transport Companies.
Presentation at: International Doctoral Seminar. 14.-18. Oktober 2019, Takashima, Japan.
M. von Mörner, R. Linke (2019)
The future of public transport in rural areas – A German case study on ridesharing with autonomous vehicles.
Presentation at: 15th World Conference on Transport Research. 26.-31. Mai 2019, Mumbai, Indien.
R. Linke (2019)
Coaches as a part of the eHighway system: A feasability study.
Presentation at: 3rd Electric Road Systems Conference 2019, 07.-08. Mai 2019, Frankfurt am Main, Deutschland.


(opens in new tab)

Download
J. K. Wilke, F. Schöpp, R. Linke, E. Kaßens-Noor (2022)
Approach for Description of Trajectories of Overhead Line Trucks using Infrastructure Data of an Electric Road System
50th European Transport Conference, 08. September 2022, Milan, Italy.
F. Schöpp, Ö. Öztürk, R. Linke, M. Boltze (2022)
Electrification of Road Freight Transport – Energy Flow Analysis of Overhead Line Hybrid Trucks
101st Transportation Research Board Annual Meeting, 12th January 2022, Washington, D.C., USA.
R. Linke, F. Schöpp, J. K. Wilke, M. Boltze (2021)
Integration of new drive concepts bytransport companies – experiences with the eHighway System
49th European Transport Conference, 15. September 2021, online (Due to Corona Pandemic 49th ETC was an online conference).
F. Schöpp, Ö. Öztürk, R. Linke, J. K. Wilke, M. Boltze (2021)
Electrification of road freight transport: the influence of gross vehicle weight on the energy consumption of (overhead line) hybrid trucks
49th European Transport Conference, 15. September 2021, online (Due to Corona Pandemic 49th ETC was an online conference).
J. K. Wilke, R. Linke, F. Schöpp, M. Boltze (2021)
Factors for the design of electric road system networks related to road operation, construction and vehicle characteristics
49th European Transport Conference, 13. September 2021, online (Due to Corona Pandemic 49th ETC was an online conference).
R. Linke, F. Schöpp (2021)
Factors influencing the integration process of the eHighway system by transport companies
5th Interdisciplinary Conference on Production, Logistics and Traffic (ICPLT), 17th March 2021, online. (Due to Corona Pandemic 5th ICPLT was an online conference).


(opens in new tab)

Download
F. Schöpp, Ö. Öztürk, R. Linke, J. K. Wilke, M. Boltze (2021)
Electrification of Road Freight Transport – Energy Consumption Analysis of Overhead Line Hybrid Trucks.
100th Transportation Research Board Annual Meeting, 25th January 2021, online (Due to Corona Pandemic 100th TRB Annual Meeting was an online conference).
M. Boltze, R. Linke, F. Schöpp, J. K. Wilke, Ö. Öztürk, D. Wauri (2020)
Insights into the Operation of Overhead Line Hybrid Trucks on the ELISA Test Track
4th Electric Road Systems Webinar 2020, 12th May 2020. (Due to Corona Pandemic ERS conference in 2020 had to be cancelled and was replaced through a webinar.)


(opens in new tab)

Download